My husband is out of town for a few days. This afforded the perfect opportunity to create my own little writer's retreat for the weekend -- yes, starting on Thursday night. As a service to you, the reader, I am giving you a tutorial -- complete with photos! -- on how to start your very own writer's retreat. It is imperative that each step is followed exactly as my instructions direct, or else you will write nothing but absolute crap. While it is also possible to follow my instructions exactly and still write nothing but absolute crap, I'm just not going to go there because I am busy writing nothing but absolute crap.
First, you need some wine. No self-imposed writer's retreat is worth a tinker's dam without wine. Go to the liquor store and buy yourself an assortment from which to choose over the next few days: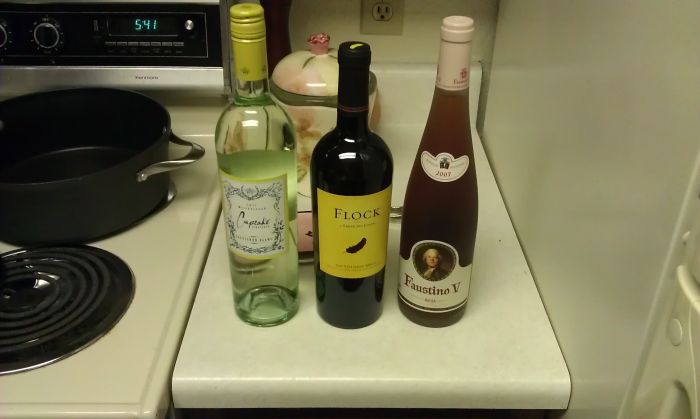 Here you see some merlot, sauv... BLAH BLAH, it's alcohol, whatev.
Before breaking open one of these bad boys, you need to get your pasta started. Carbs are an essential part of my diet as a writer because I hate to exercise. Carbs force me to get up off my carbolicious ass and onto the treadmill so that I can fit through my door. So, this is the one part of my tutorial that is flexible because you don't have my recipe for Kickass Tempeh Pasta Sauce. But I can tell you that I made some yesterday. So pretend you made some Kickass Tempeh Pasta Sauce and that you are reheating some leftovers.
Boil fresh pasta because leftover pasta always tastes like crap.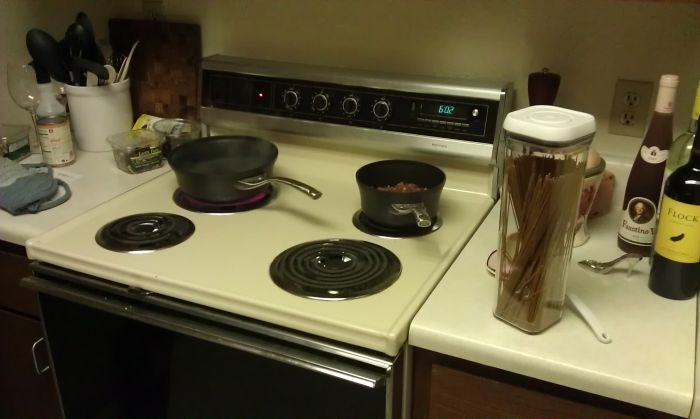 Go ahead and pour yourself a glass of wine, because water takes forever to boil when you are freaking hungry as hell.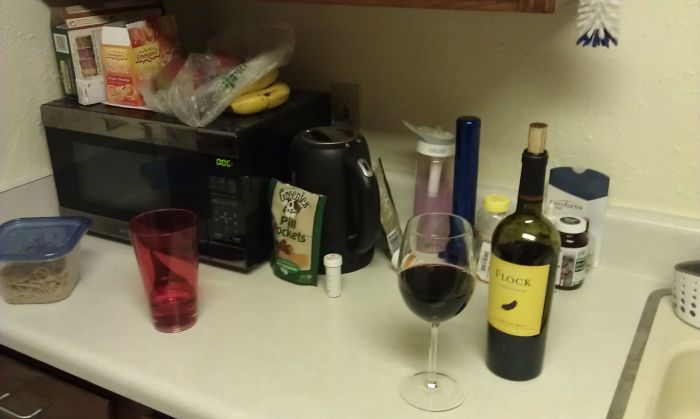 Do not bother trying to explain why you have fruit on your microwave or a flashlight lounging on your countertop. You are a writer. You do not have time to care.
Now you need to dress in appropriate attire for a writing weekend. Personally, I find my best ideas come to me while I am wearing this: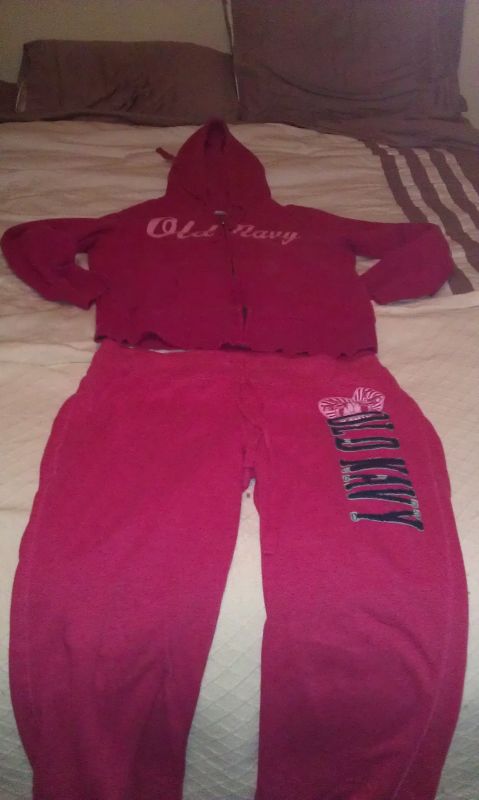 Old Navy Comfy Pants and sweatshirt -- but it is so important that they are mismatched shades of hot pink. I cannot stress enough how much this matters. Your aim here is to be completely repulsive to any unfortunate human who might show up unannounced at your door so they will spare you the effort of explaining you are busy and just run off screaming instead. Mismatched shades of eye-throbbing hot pink. Got it? And throw on a shelf-bra tank underneath for maximum comfort. This will make your boobs sag enough under your sweatshirt that no one will care if you have any or not.
IMPORTANT: DO NOT CHANGE OUT OF THIS UNTIL SUNDAY NIGHT. WEAR IT DAY AND NIGHT TO MAKE IT STINKY. ONLY THIS WILL MAKE YOUR WRITING GLORIOUS ENOUGH TO BE PUBLISHED.
Stop by the mirror to see if you can do the cute wink you saw another blogger post once that you liked, but fail miserably: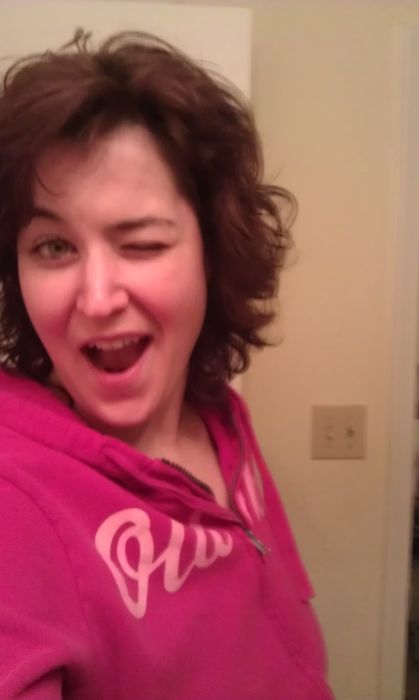 Attempt other snarky looks, but don't be surprised when they turn out to be just plain weird because you are a dork.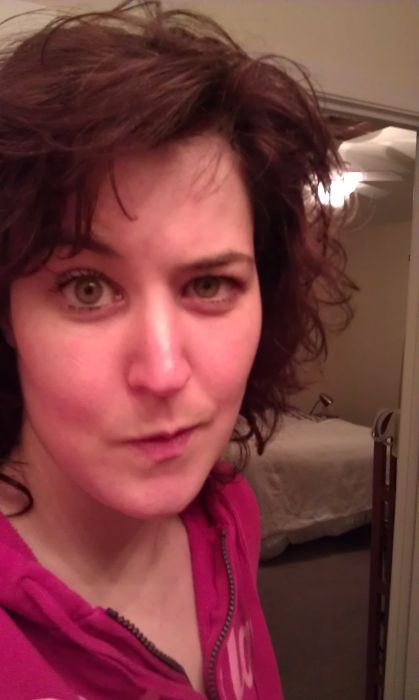 Go to check on the pasta, but instead find your cats giving you accusatory looks that insinuate you will never feed them again because you are a cruel person who hates animals.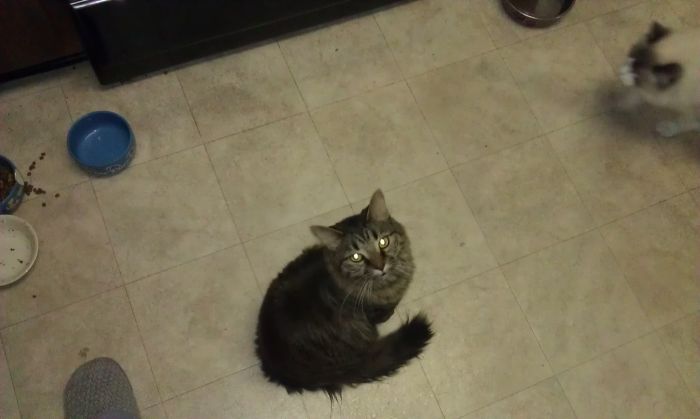 The more food in the cats' bowls, the longer they will let you write undisturbed.
Better take care of the dog, too.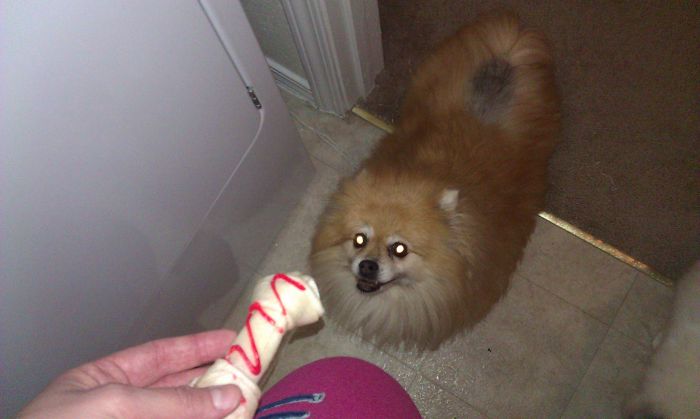 Give a dog a bone! This old man came rolling home. (What does that even MEAN???)
Now remember how you were too lazy to take down all of the Christmas lights? And how you and your husband decided to just leave them up and call them "party lights?" Plug those in, because you are about to have the writing party of the ages.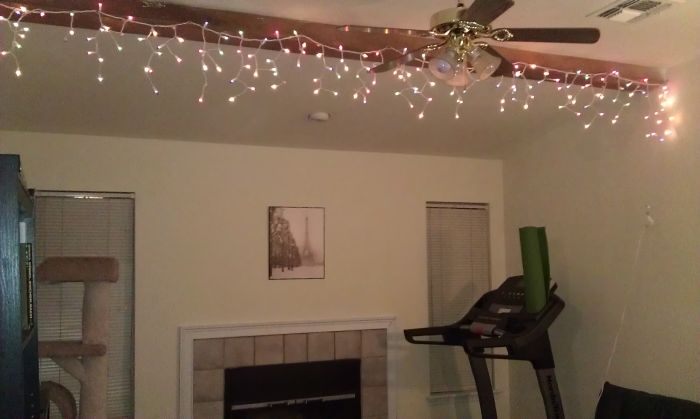 Yes, that is a yoga mat inside the cupholder of my treadmill. The cats use it as a scratching post otherwise.
Say hi to facebook while you wait.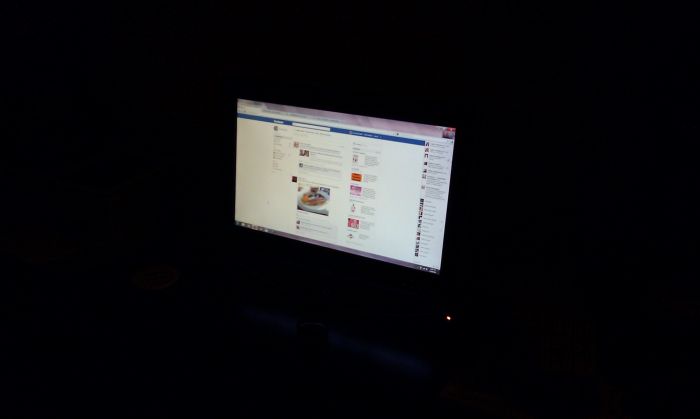 HI FACEBOOK PEOPLE WHO I RARELY TALK TO IF EVER!
Growing bored waiting for the damned pasta to cook, take photos to send to your husband. Put on your best "come hither" look...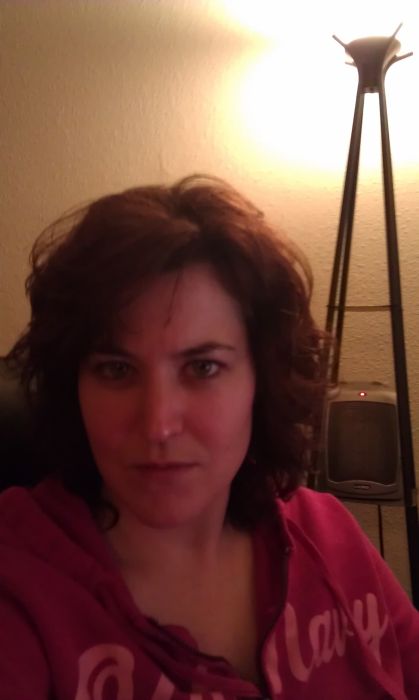 ...and realize why you never got asked out much in your single days. Jesus Christ, woman! Try for more "sexy" and less "homocidal."
Try the wink again.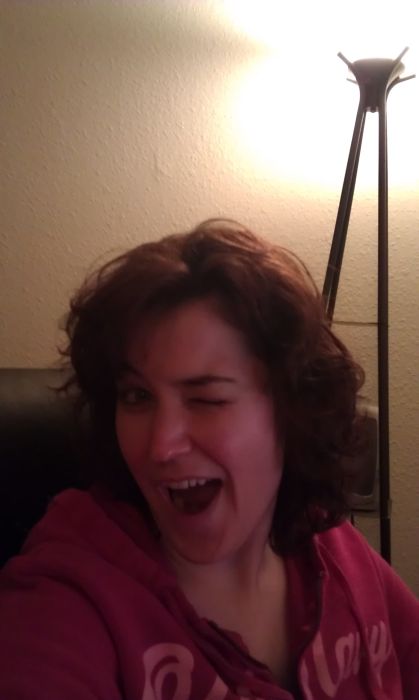 Nevermind.
Experience technical difficulties as you attempt to take your own photo with a touch screen phone.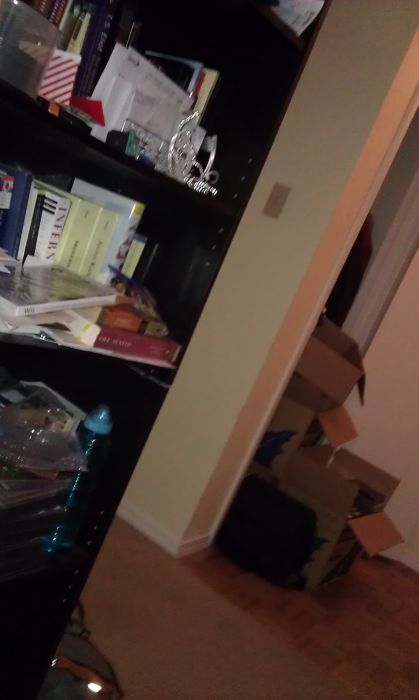 This is why my phone will never entirely replace my camera.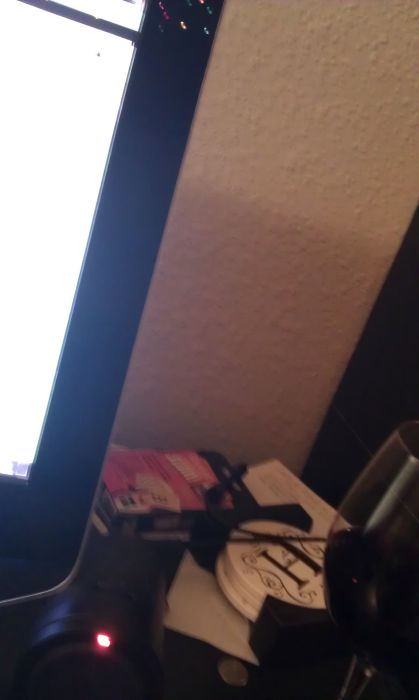 WTF?
Got that sexy look mastered, yet?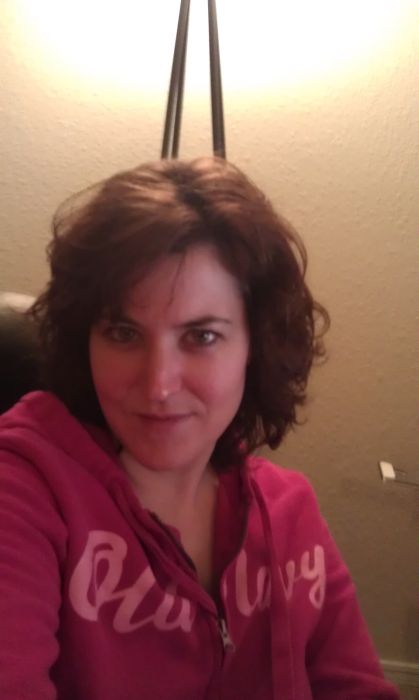 Keep trying. You'll get there some day. (Hint: use make up. Powder, foundation, something!)
Show all two of your readers your writing environs: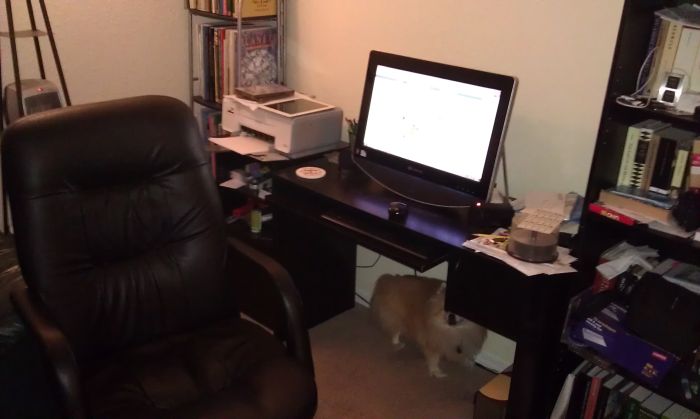 Do not apologize for the cluttered desk, because you are a writer and do not care.
Was that the timer? Pasta is ready!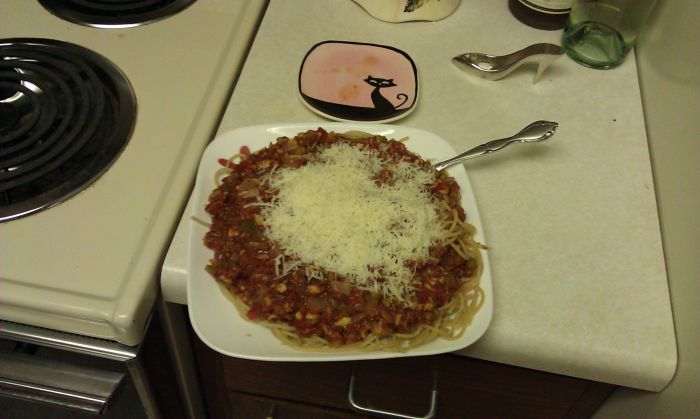 Take the pasta and wine to your desk to enjoy while posting your writer's retreat tutorial.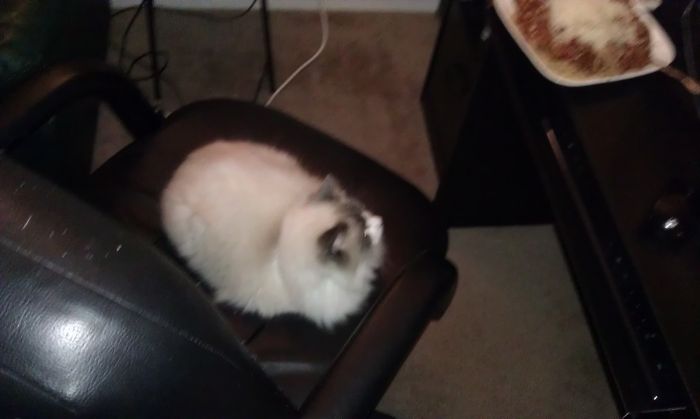 Kick the damned cat out of your chair before he eats your beloved carbs. Just because he snubbed the food you gave him gives him no right to eat your pasta.
Write a kickass blog.
Now you are ready to write for real.
Cheers!